Supporting youth, nonprofits, connections and communities
Pictured Above – Elite Sports Academy – PC: Andy White
Since its inception in 1991, the Multnomah Athletic Foundation (MAF) has generated opportunities for youth by supporting nonprofit organizations through grants, providing scholarships to student athletes from underrepresented communities while engaging in community outreach.
In 2021, MAF awarded 22 grants, provided 58 scholarships, and distributed $246,000 in funds to reach 30,400 youth throughout Multnomah, Washington, and Clackamas counties. MAC members who contribute during the annual fund drive help support these efforts, and the foundation's board is grateful.
The numbers show that these actions and activities are powerful in and of themselves. Through the foundation's community outreach, the real magic happens when the organizations we support coincide with youths' academic and athletic interests, as well as their community involvement, helping spark new connections.
These connections — and their collective impact — are at the heart of the foundation's mission and arise from the crossroads of community engagement. Sometime spontaneous, sometime intentional, they are always dynamic. And moments generated by collaboration between students, grants, scholarships, and nonprofit leaders ultimately energize the greater community.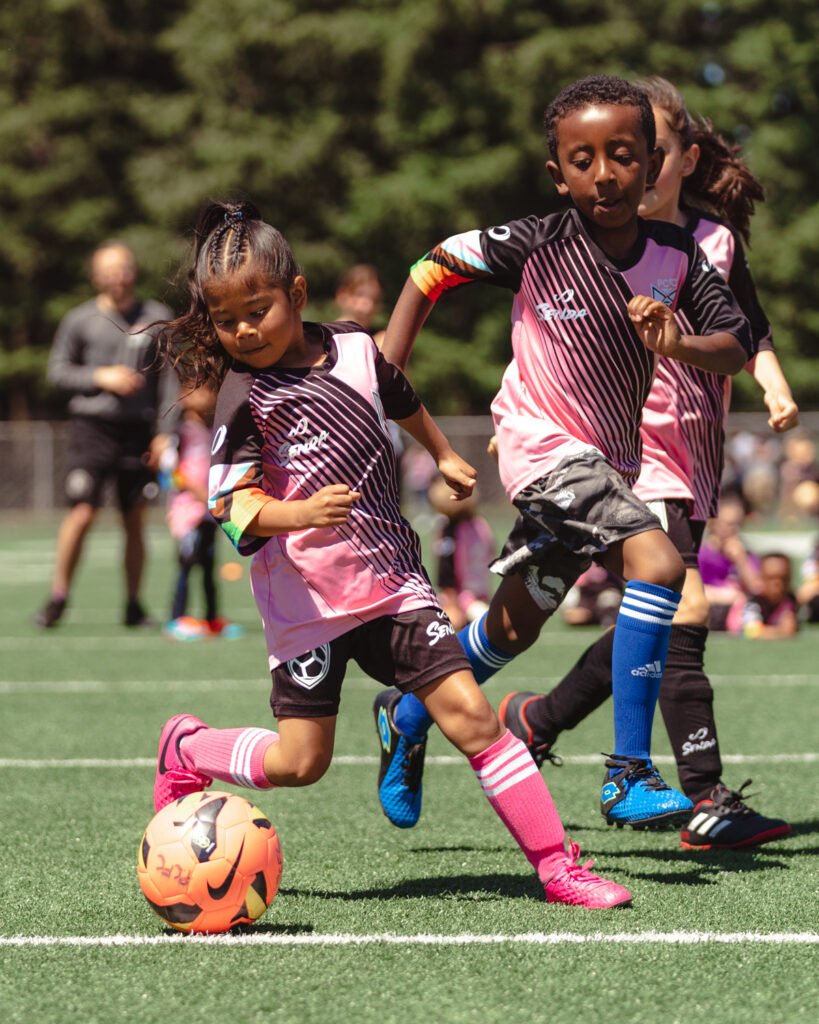 Portland Community Football Club (PCFC) is an example of where MAF's support, athletics, and youth development intersect to strengthen local communities. "Multnomah Athletic Foundation has been an instrumental supporter of PCFC since 2017, helping provide kids from low-income, immigrant, refugee, and LGBTQ+ communities with access to the beautiful sport of soccer," said PCFC Founding Executive Director Kaig Lightner. "MAF has been an important partner in supporting our 'whole athlete' approach, which includes nutritional, social-emotional, and social service referral support for our players and their families. We believe every kid deserves the opportunity to excel, and MAF is a part of making that vision come true."
Elite Sports Academy is another nonprofit whose mission, along with the greater community, benefit from the foundation's support. "It is hard to put into words the incredible impact the Multnomah Athletic Foundation makes not only on Elite Sports Academy, but the Portland community as a whole," said Elite Sports Academy Executive Director Andy White. "During the past five years, our organization has enrolled over 2,500 low income and minority students, served over 27,000 free meals, and provided over 3,000 hours of sports-based educational activities — many of which would not have been possible without MAF's support. The foundation's work is nothing short of life changing."
MAF creates spaces where nonprofits and youths overlap, forging new dynamics rooted in authentic and equitable relationships. For instance, a student participates in an after-school sport program and gets help with homework, which helps them excel in athletics and academics, which leads to a scholarship, which allows them to pursue their dreams. Or, a student gets the chance to attend summer camp, where they experience new activities, which introduce possibilities they never considered before. Connections like these demonstrate the power of serendipity at work and how access to participation fuels opportunities.
For those interested in sharing in the excitement of these connections, join us for the annual Impact Award event on Wednesday, Nov. 9, which will be held in person at Multnomah Athletic Club.
Members can learn more about MAF's community partners and the powerful and inspiring connections they've forged in the December issue of The Winged M.
Contributions Create Possibilities
The hardest part about sharing the stories of our scholarship recipients and grant partners is choosing whose to tell. Amplifying voices of dreamers, action-oriented students, and amazing nonprofit leaders is a privilege and a delight, and MAF will continue to share stories regularly on our website and social media channels.
The foundation would not have these stories to share without your help. Members' annual $25 donation, added to your October statement, helps fuel opportunities for these young people. Although a single $25 contribution may not seem like much, when it is multiplied by thousands of MAC members during the annual fund drive, it has a far-reaching impact.
The opportunities come in different shapes and sizes. For scholarship recipients, your donation helps provide access to education at two and four-year schools. For community grant recipients, you're providing kids with an opportunity to play organized sports or engage in active play. Our grant recipients are organizations committed to supporting underrepresented and underserved areas, while helping kids build confidence and develop life skills.
The foundation thanks you for your contribution. The foundation will provide a gift acknowledgement for this tax-deductible gift in mid-November. If you would like to opt back in or opt out of the annual donation, please contact the MAC Accounting Office.
If you would like to do more, or share some ideas, we would love to talk with you. For questions about the Multnomah Athletic Foundation's Annual Fund Drive, contact Executive Director Lisa Bendt through our contact page above.
– Sarah Burczak and Randy Choy, Board Co-Chairs
Written by Laurie Harquail, Originally published in the October 2022 issue of The Winged M Magazine.