Foundation connects youth with athletics and academics
In the last few years, important shifts in philanthropy have occurred. Redistribution of wealth and resources in a traditional top-down way is evolving into a more equitable and collaborative approach. People involved in nonprofits are no longer just collaborating peer-to-peer but directly with the members of the communities they serve.
The way the work gets done is also shifting: The older model, which relies on charitable organizations to provide quick solutions to problems, is being replaced with a model where nonprofits engage in sustained and long-term involvement in the community.
How these bigger shifts play out in local nonprofits is important because that is where the real change happens — change that affects kids, their quality of life, and their access to opportunities. The Multnomah Athletic Foundation (MAF) is committed to these shifts and to creating an accessible and inclusive space where donors, volunteers, and friends of the foundation exchange ideas and forge relationships that help these important changes gain traction.
Working in tandem with local nonprofits, MAF focuses on creating positive change that serves youth.
Talented, motivated, and enthusiastic kids from under-represented and under-resourced communities challenge the foundation to create new possibilities through academics and athletic participation — and the foundation is grateful for the opportunity.
The grant-making approach at the foundation brings together nonprofits that take a collaborative and community-based approach to creating possibilities for youth. MAF partners with three such organizations: Greater Than, Portland Tennis and Education (PT&E), and Portland Community Football Club (PCFC), all of whose leadership has first-hand knowledge of and actively connects with the communities they serve. Each one has a committed executive director who is listening with open ears and an open heart, constantly learning, and adapting their approach and programs to serve kids and their families in the best way possible.
Greater Than
Mark Langseth, President & CEO
"As a society, we can't afford to have students not reach their potential."
Greater Than addresses inequities in the educational system. The nonprofit supports students who begin their academic journeys at two elementary schools in historically underserved communities: Alder Elementary School in Rockwood and Lincoln Elementary School in downtown Hillsboro.
The organization serves over 1,000 children each year, applying a "whole child" model that supports students and families through a combination of programs, resources, and partnerships from pre-K to college and career.
Greater Than understands that many factors that impact a child's ability to learn fall outside a school's control, including basic food insecurity, housing insecurity, systemic racism, and racial disparities. They apply a flexible model that harnesses the power of partnerships to provide support across the educational spectrum.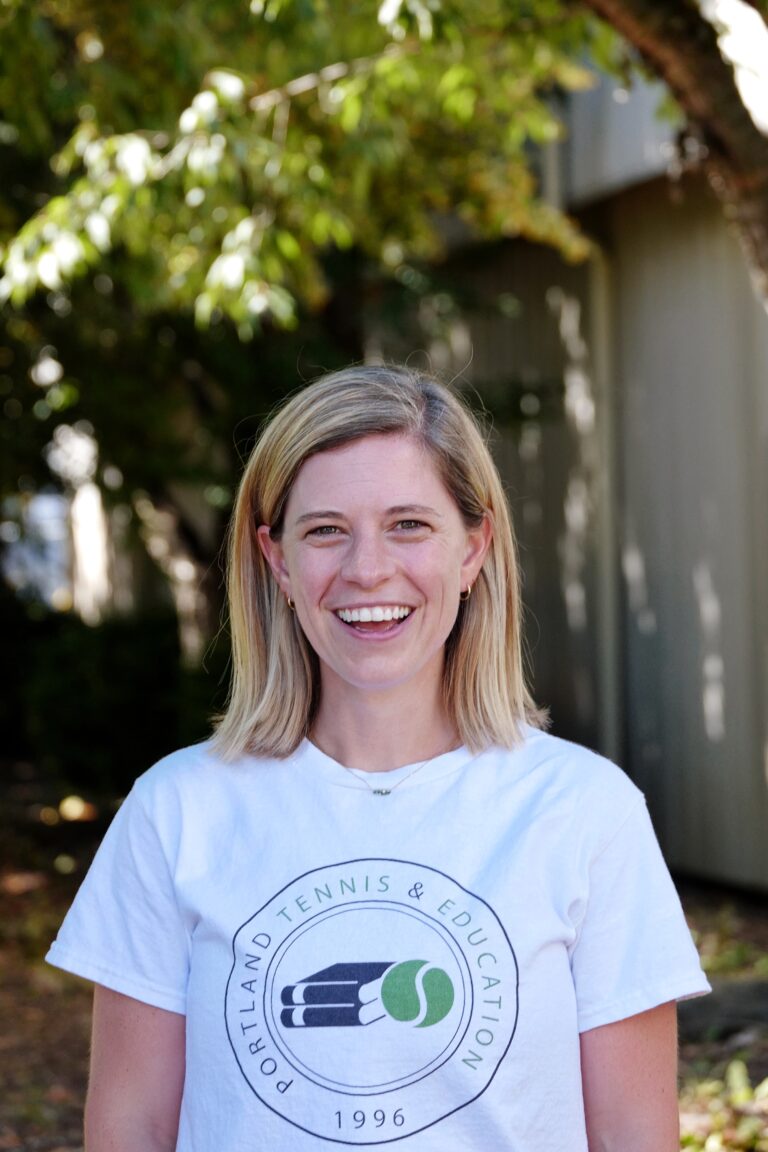 Portland Tennis & Education (PT&E)
Campbell Glenn Garonzik, Executive Director
"Listening first is so important. Not just listening, but truly listening well, which, in turn, builds trust with your community."
This year, Portland Tennis & Education (PT&E) celebrated 25 years of service to more than 16,000 K-12 students and their families in North Portland.
Through after-school and summer programs, PT&E provides 1,000 hours of enriching out-ofschool time to students, enabling St. Johns youth to thrive through academic tutoring, high-quality tennis instruction, mental health support, nutritious snacks, character development, and counseling. Along with supporting youth directly, PT&E emphasizes building strong relationships with parents, families, and the surrounding community. Program participants' hardworking families are able to provide for their children while they are at PT&E engaged in healthy, positive activities, providing a positive ripple effect that impacts not only youth but their families and communities.
PT&E is also working to change the face of tennis and create greater access to a sport long associated with wealth and privilege. Beyond bringing the sport to youth participants (91% of whom identify as BIPOC), PT&E's indoor tennis facility is a community hub in St. Johns, offering low-cost, non-membership tennis to the culturally rich, diverse residents of North Portland.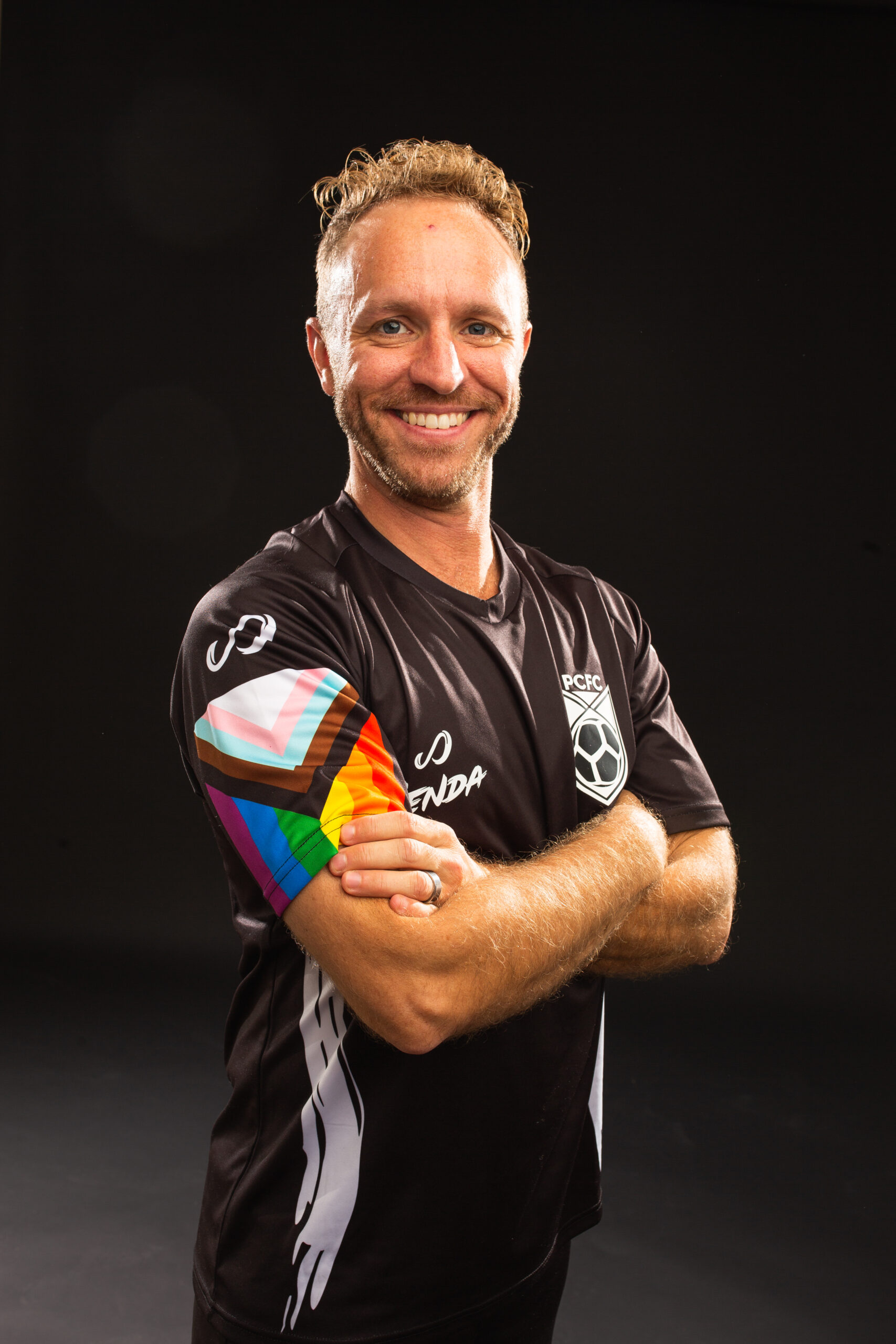 Portland Community Football Club (PCFC)
Kaig Lightner, Executive Director
"It's important to bring love and humor to the work."
Portland Community Football Club (PCFC) makes soccer played at a competitive, elite level accessible to athletes and families from low-income communities. The nonprofit models first-rate soccer clubs and provides quality coaching, equipment, and support.
Playing soccer at an elite level can cost thousands. Due to the high costs, many talented and athletic kids from lower-income households are automatically excluded from the opportunity to play, develop, and excel at an elite level. PCFC addresses this systemic inequity by reducing the financial barriers and providing a safe space for youth to gain skills, confidence, educational, and emotional support, and by taking a whole child/whole athlete approach.
PCFC also welcomes members of the LQBTQ+ community and is the first youth soccer club in Portland to have an open acceptance policy for LGBTQ+ players, coaches, and families.
Executive Director Kaig Lightner is a transgender person and shared the following: "In 2017, I decided to take a bold step and come out to a group of kids I coach at Portland Community Football Club. I felt if I was asking others around me (volunteers, students, and families) to show up in an authentic way, then I needed to also. That was a transformative moment and initiated a deeper level of trust with the people we serve."
Different Organizations, Like-Minded Approach
Although the three organizations have different missions and operational scale, their approach shares common threads toward long-term and sustained involvement: letting parents take the lead and empowering parents and families to create and initiate change; taking cues from and engaging with the broader community; and forging partnerships with like-minded organizations.
Families Lead the Way
When it comes to parent leadership, Langseth provides a powerful example: "I know of parents working two or three jobs with long shifts, and they are still highly motivated to provide the best opportunities for their children, and they know best what the barriers are to their children's educational success." Lightner from PCFC agrees. "The parents we work with are informed, involved, and engaged — and many just need good information to help their kids."
Taking Cues From the Community
When it comes to taking cues from the community they serve, Glenn Garonzik offers an insightful observation. "It's not uncommon for those from well-resourced communities to paint a bleak picture of underserved communities, which is simply not true. That is not how people show up in under-resourced communities. They are brilliant, highly motivated, and eager to serve. It's true there are gaps — and we need to help fill the gaps. But it is important to recognize the power and potential of under-represented communities."
The Power of Partnerships
All three executive directors agree that forging smart partnerships with like-minded organizations provides a greater network for kids and their families, and ultimately allows their organization to focus on what it does best. A vital component of these partnerships is the willingness of donors and funders to trust the organizations' leadership to lead.
All the executive directors agree that authentic and deep collaboration is key. "To partner with parents and families with children in underserved communities, we must listen closely, then adapt and respond to their needs," said Langseth. "People are much greater than barriers they are confronted with every day."
The Multnomah Athletic Foundation works with local organizations like these each day as they strive to provide youth with greater access to athletics and education in the Portland metro area. Using its platform and voice to elevate first-hand experience and committed community action, the foundation creates a space for others to share their aspirations. MAC members can actively engage in these partnerships by supporting the Multnomah Athletic Foundation's efforts.
Written by Laurie Harquail, Originally published in the December 2022 issue of The Winged M Magazine.