For both Brennan and Cameron Scarlett, the Multnomah Athletic Club has been an example of the power of community. As MAC Scholar Athlete recipients in 2009 and 2013 respectively, they were awarded a complimentary two-year membership to the club, both decided to remain a part of the community and transitioned to adult members after completion of graduation. Brennan recalls the resources that opened up for him and how beneficial they were to his athletic success.
During his time at Central Catholic High School, Brennan played football, basketball, and ran track. After a football injury impeded his ability to play basketball, he turned to swimming for the winter season. He'd make his way to the club to swim before school and be greeted by name at the Front Desk. That familiarity quickly made MAC a place of support and comfort. Over the last 13 years, his life has changed dramatically, but his relationship with MAC has stayed the same. Whether he was playing football at UC Berkeley, Stanford, or for the Houston Texans or the Miami Dolphins, where he is today, you can still find him at MAC at least once a day when he is back home in Portland.
Like his older brother, Cameron found comfort and a world of opportunity at MAC. The day after a Central Catholic football game you could find Cameron recuperating in the hot tub and spa. As a four-sport athlete, MAC's athletic resources meant nearly endless opportunities to train and prepare for his future as a professional football player. The night before he made his college decision, Cameron took to the outdoor MAC tennis courts. From the comfort of one of his favorite spots, he was able to get the clarity he needed to feel secure in the decision he would make. Seven years later, his budding football career means he doesn't get to the tennis courts as often as he would like, but whenever he is home, Cameron can be found around the club.
Throughout their childhood, the Scarlett's parents not only spoke about the power of education, but were daily reminders of the influence it can have on your life. Their mom was a graduate of Boise State and their dad graduated from BYU — the first in his family to do so. Brennan remembers his dad working on his city planning master's at Portland State University while training for the 1996 Canadian Olympic trials. With that influence, it's no surprise that both Brennan and Cameron had the discipline and instinct to complete master's degrees while playing football.
Brennan cites his strong support system of family, coaches, community members, and teachers as the motivation for his push to be an avid learner and exceptional student. Once he discovered he could compete in the classroom, the motivation for improvement and knowledge was intense. He strived to maximize who he was as a student so he could be prepared for whatever shape his professional career took. When Cameron saw his brother get accepted into UC Berkeley, he realized that it was time to flip the switch and get serious about his academics. Recognizing the power of distinguishing himself as a student athlete, Cameron began to excel. He played football at Stanford while earning his bachelor's degree. After a short pause for an NFL training camp, Cameron returned to Stanford to finish his master's degree before continuing on with his professional football career.
Growing up in North Portland, the Scarlett brothers watched their community go through many changes over the years, and their desire to give back led to the creation of a local foundation in 2018.
The importance of community is constantly present in their minds, and their foundation — Big Yard — is named for the community in Jamaica where their father was raised. When he was 4 years old, Paul Scarlett's parents moved to Toronto with the goal of earning enough money to bring him and his siblings over. In their absence, neighbors made sure the kids were taken care of. There was no question about it — that was just what you did for the people in your community. Especially in Big Yard.
The Big Yard Foundation focuses on three pillars: education, creativity, and physical wellness. Its mission is to support community empowerment, lessen neighborhood tensions, and combat community deterioration in North Portland. In an effort to fundraise, Big Yard hosts a one-day football camp, dodgeball tournament, and an event called Big Yard Studio which highlights and celebrates black artistry in a gallery setting. All of the funds raised are funneled back into the neighborhood through book fairs and events aimed at building community. At monthly book fairs, held at a local elementary school, each kid receives a backpack and is given the opportunity to fill it with books from the foundation's library. One of Big Yard's larger events occurs annually on Juneteenth — at the Celebration of Black Lives Festival, local artists, musicians, and vendors come together to celebrate and honor Juneteenth and the community.
If you ask the Scarlett brothers where Big Yard is going, there is no limit. Plans of football and basketball teams, athletic tournaments, improvements to local parks and fields, and a center for athletics, education, and creativity are all on the table. Brennan and Cameron's determination, creativity, and resilience is palpable, and their journey is one to keep an eye on.
Those interested in getting involved with the Big Yard Foundation can reach out to their team via BigYardFoundation.org.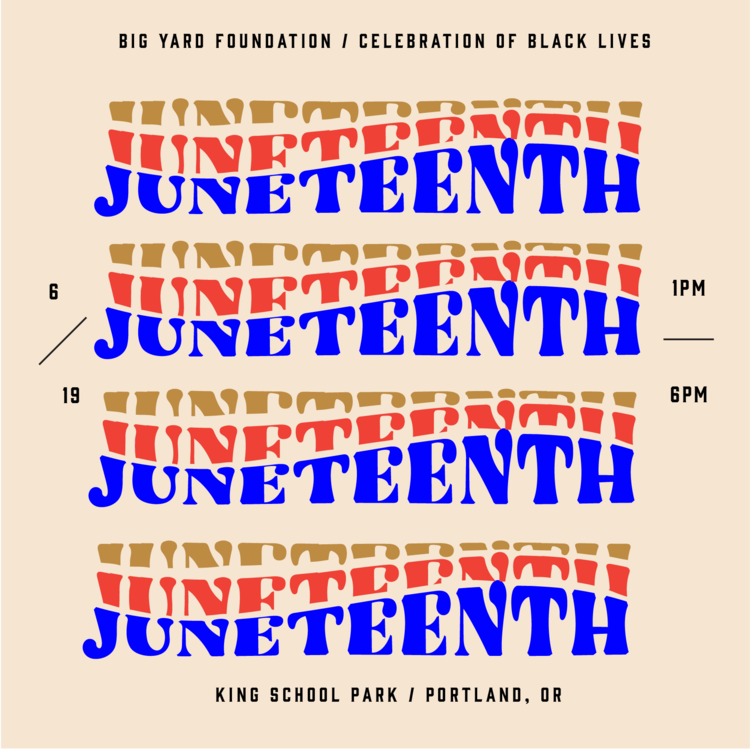 Juneteenth commemorates the emancipation of enslaved African Americans and has been called America's Second Independence Day. It became a federal holiday in 2021.
"We believe it is the purpose of Big Yard to bring recognition to such a monumental day, while also gathering the community in celebration and supporting community empowerment." – Cameron Scarlett
Written by Jacqui Monahan (MAF Board Member and Communications Committee Chair.
Originally published in the June 2022 issue of The Winged M Magazine.